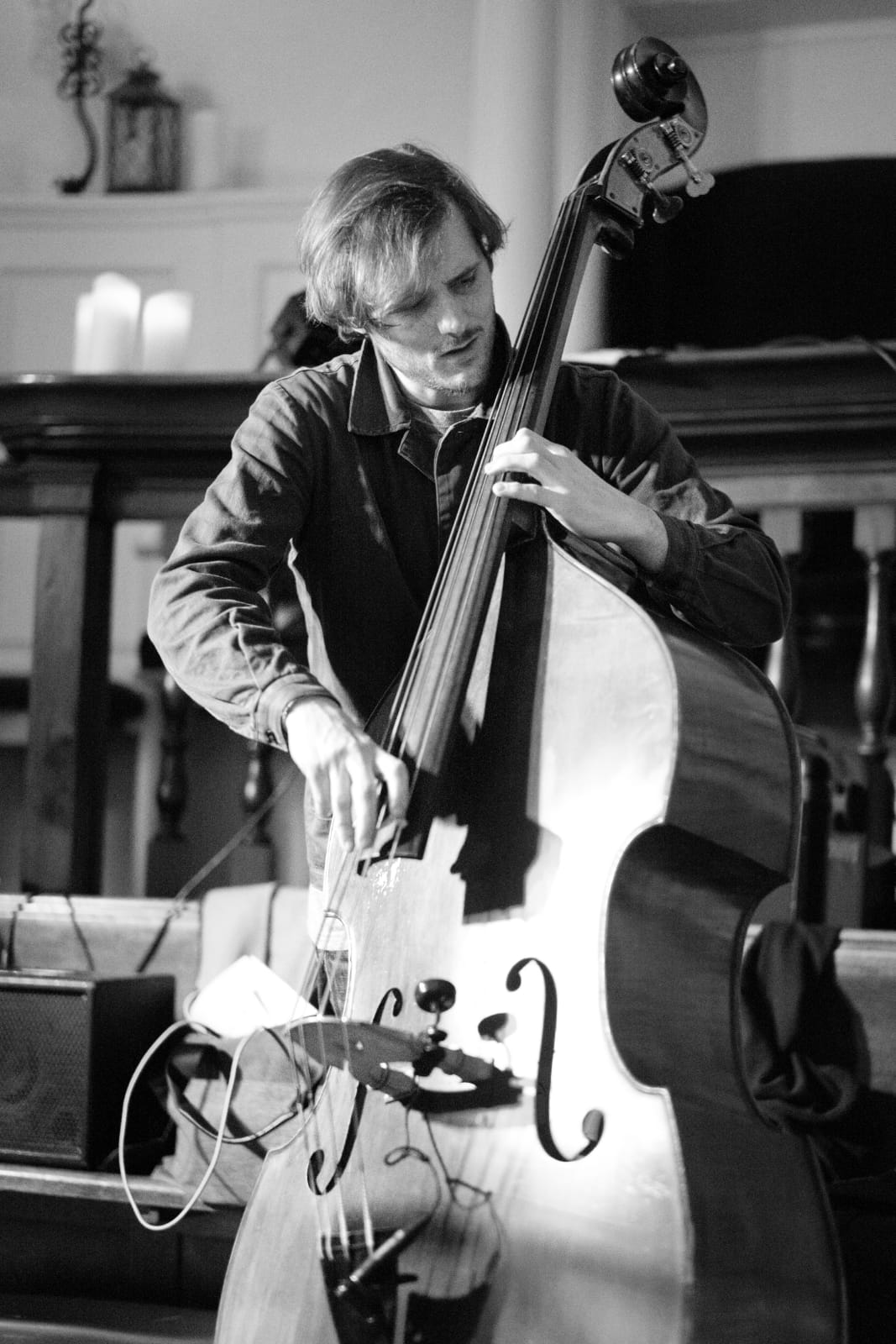 "A protégé of the great Herbie Flowers, now one of London's busiest cross-disciplinary bass players."
As one of the most in demand bassists in the UK, Joe Downard is widely recognised for his skills as a performer and improvisor. Joe is a crucial component to many of the UK's top rhythm sections that range from modern contemporary Jazz and Soul to Electronic and Western African music, he is regularly seen in these groups touring the UK and Europe. Predominantly an electric bass player in his early years, Joe made the move to London to focus on the upright bass in Jazz and soon embedded himself within the scene and notably the National Youth Jazz Orchestra. Shortly after joining the orchestra, Joe became the chair holder for NYJO and held the position for 4 years. During his time with the band, Joe recorded two highly acclaimed studio albums, toured extensively and performed with Wynton Marsalis and the Jazz at Lincoln Centre, Gregory Porter and some of the top UK jazz instrumentalists.
Residing in London, Joe has been a part of many groups that are making great waves in the current scene. The Alex Hitchcock Quintet is a powerhouse group that combines a compelling, adventurous ear for melody with virtuosic improvising. The band's increasingly burgeoning reputation on the international jazz stage was confirmed by receiving first place at the Conad Jazz Contest at the 2018 Umbria Jazz Festival. In a breakthrough year in 2018, a 15-date nationwide tour of their acclaimed debut EP was followed by a sold-out launch at Pizza Express Jazz Club in London and performances at Ronnie Scott's and Love Supreme Festival.
Joe also shows impressive flexibility and stylistic awareness as an integral part of the band Waaju, who seek to encapsulate influence from a number of cultures across Africa, South America and beyond, diving deep into the heritage of these musical cultures leaving behind any preconception and promote forces largely unexplored in a Western context.
Joe is the go to bassist for Jazz/Soul singer Judi Jackson who most recently released her debut album 'Live in London' of which Joe is featured heavily. Judi has most recently finished a 20 date tour of Europe that ended with a 4 night run at the famous Duc des Lombards in Paris, which also went live on TSF Jazz radio station to their 100,000 strong listeners.
As well as being deeply rooted in blues and jazz tradition, Joe can also be heard in the LONO who boast themselves as "strange, funky, orchestral and analog". LONO are a group of studio musicians who collaborate with artists to create music within the electronic genre but also work with film makers and photographers and have most recently been play-listed by BBC radio 1Xtra and Worldwide FM.
Joe has received much recognition for his contribution to the music scene he thrives in today with accolades such as being named "one to watch" in Bass Guitar Magazine, The Worshipful Company Of Musicians -'Jazz Musician of the Year' finalist and most recently the recipient of the Sir Elton John Scholarship to attend the Masters course at the Royal Academy of Music.
In 2019 Joe is most likely to be spotted at Ronnie Scott's performing at one of the nightly Late Late shows whilst balancing life as a professional student. 2019 is also the year that has seen the birth of the Joe Downard Sextet that features original compositions of his and boasts a roster of the finest jazz musicians in Europe with the debut album 'Seven Japanese Tales' to be released later this year.